SMP publication compliance checks
Interoperability on the Peppol Network starts with the correct publication of transport types and document identifiers on the Peppol Network.
We have a system that can automatically run a number of capability publication compliance checks for a list of identifiers, to check whether they comply to local, regional, or national compliance requirements. A simple example of such a check is that a recipient support mandatory document types, such as Peppol BIS 3.
This service is available for Peppol Authorities and other national or sector-spanning organizations that wish to improve interoperability between their members. We can generate a monthly report for all identifiers country, as published in the Peppol Directory, or any list of identifiers that you want to provide to use.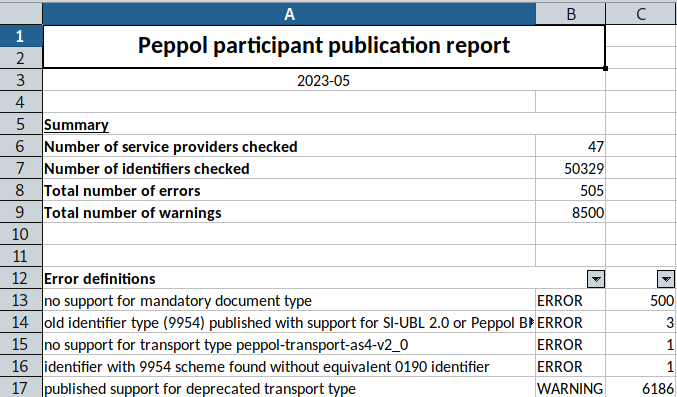 The report gives you an overview per service provider, supplemented with a summary of the warnings, errors, and problems found. This information offers you the opportunity to make concrete improvements together with your service providers. This includes summaries of warning and error counts, as well as a full list of the issues encountered. You can find a sample report file here.
Looking for more information on specific errors or warnings? We have a documentation page with descriptions of all of the compliance checks.
We can perform these checks on a provided list of identifiers, or, if you are a Peppol Authority, on all identifiers published in the Peppol Directory for a given country.
Interested in having such checks performed for your organization on a regular basis? Would you like to see specific checks, or a custom report format? We're happy to talk to you! You can contact us at contact@ionite.net.